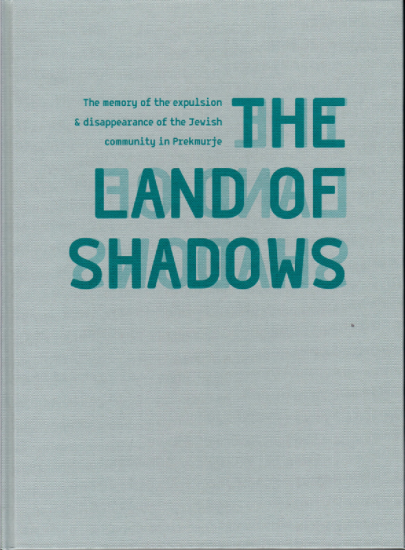 The Land of Shadows [druga izdaja]. The memory of the expulsion and disappearance of the Jewish community in Prekmurje.

Authors: Oto Luthar, Martin Pogačar
Year: 2016

This is a book about violent death and destruction, a book about despair and sorrow. But it is also about survival, about solidarity, friendship and the will to live. It is a reflection by the descendants of those who survived the Shoah.
This is a story about a modern, middle-class family that was once a part of a small Jewish community. This family was well integrated into the multiethnic community in a part of Austro-Hungarian Monarchy, which after World War I became the Kingdom of Yugoslavia. Although similar to other stories of young victims of the Nazis, such as Ana Frank, Eli Wiesel, Imre Kertész, and Miriam Aviezer Steiner, who later became literary icons, Erika Fürst's story is a unique description of the life of an ordinary family of four in a remote part of Europe and memory.
The new edition is a redesign, made by Natalie Shimony and Yaara Hirsch, with the help of the 'NB School of Design' Visual Communication students, gave the original book a new design and included students' artwork on Holocaust memory. They decided to combine the narrative of Erika Fürst with all those who miraculously survived the concentration camps and other forms of persecutions and found their new lives in Israel.
"Because of what happened to her in Auschwitz, Erika could not have children of her own, which is why we believe she should, at least virtually, become part of the community of survivors. The children of the people who escaped death in concentration camps should be familiar with her family story as well. For it is the next generations who, seventy years after Auschwitz, carry on the memory of World War II. It is their reflection on their family's pasts that makes the Holocaust comprehensible even to those who have never experienced anything like it."
Natalie Shimony and Yaara Hirsch
---
Authors

Other authors

translated by

Publishing House:

WIZO NB School of design (Haifa)

Publisher

ISBN

-

Year

2016

Language(s)

Specifications

hardback 20 × 27 cm 128 pages

Permalink