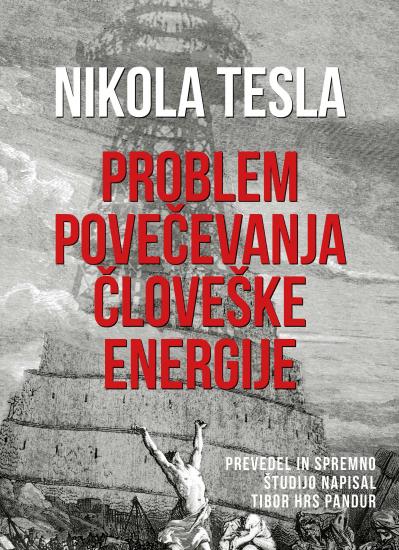 Problem povečevanja človeške energije [prva izdaja].
Author: Nikola Tesla
Publishing House: Založba ZRC, Založba Litera
Year: 2019

The Problem of Increasing Human Energy, never before translated into Slovene, was published by Nikola Tesla in 1900 in the June issue of Century Magazine. In this popular scientific and philosophical treatise Tesla, based on his findings in the experimental wireless station in Colorado Springs (1899–1900), presented reasons for research, that lead him to the development of his wireless system of energy transmission, later incorporated in the prototype station known as Wardenclyffe on Long Island (New York). While elaborating his social theory, his theory of war and his philosophy of technologies, that might transform society, he proposed the development of a "self-acting heat engine", which could harness all of its motive power from the environing medium. He also presented the first "teleautomaton", a remote controlled boat, thereby forming the basis of wireless or radio technology, remote control and experimental robotics.
Tesla's researches are extremely relevant today, because of his early realization of the problem of exponential growth against a finite resource and his intense study and development of (still not sufficiently understood) self-sustaining systems of energy generation and distribution, which wouldn't be based on "the consumption or destruction of any material whatsoever" or on the brutal supremacy of the rich over the poor.
---
Author

Other authors

translation and afterword

Tibor Hrs Pandur

Publishing House

Založba ZRC ,

Založba Litera

Publisher

Co-publisher

Paraliterarno društvo I.D.I.O.T. (IDBOOKS)

ISBN

978-961-05-0171-8 (ZRC SAZU)

978-961-7056-17-4 (Litera)

Year

2019

Language(s)

Specifications

hardback 16,7 × 23 cm 544 pages

Versions

Permalink

Keywords

electrical engineering

electricity

energetics

philosophy

radio engineering

remote control

robotics

science

solar energy

sustainable development