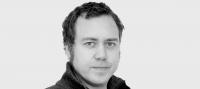 PhD in Cultural Studies, research fellow
Research interests
Martin Pogačar has an MA in Central and south-east European studies (SSEES, UCL) and a PhD in changing memory practices in digital media environments (UNG).
His research interests include media memory studies, technology, memory and post-socialism, questions of insecurity, uncertainty, future and anticipation and the problematics of the culture of the past. He is also interested in the future of Yugoslav popular music, archiving in the digital age and Yugoslav automobile heritage.
Selected publications
Media archaeologies, micro-archives and storytelling: re-presencing the past, London: Palgrave Macmillan, 2016.
Fičko po Jugoslaviji : zvezda domačega avtomobilizma med cestami in spomini. Ljubljana: Založba ZRC, 2016.
"Digital afterlife: ex-Yugoslav pop-cultural icons and social media." In: BERONJA, Vlad (ed.), VERVAET, Stijn (Ed.). Post-Yugoslav constellations: archive, memory and trauma in contemporary Bosnian, Croatian and Serbian literature and culture. Berlin; Boston: De Gruyter, 2016, pp. 279-300.
"Music and memory: Yugoslav rock in social media". Southeastern Europe, 39/2, 2015, str. 215-236, doi: 10.1163/18763332-03902004.
"Digital heritage: co-historicity and the multicultural heritage of former Yugoslavia." Dve domovini 39, 2014, pp. 111-124.
"Empowering digital memorials: post-Yugoslav dealings with socialist past." In: FAWNS, Tim (ed.). Memory and meaning: digital differences. Oxford, United Kingdom: Inter-Disciplinary Press, 2013, pp. 99-114.
All publications (COBISS) >>
Curriculum Vitae
Current post
ZRC SAZU 2007-, research fellow
Education
PhD, 2012, UNG, thesis title: "Memonautica:  Yugoslavia in digital memories, memorials and storytelling", University of Nova Gorica
MA, 2005, School of Slavonic and East European Studies, University College London, MA thesis title: "Traces of Yugoslavia: Yuniverse will b-last"
BA, 2003, Faculty of Social Sciences, University of Ljubljana, Cultural Studies, BA thesis title: "Audio-visual scapes of Yugoslav mythology"
Languages
Slovene (mother tongue), Serbian/Croatian (Fluent), English (fluent)
Conference papers
"Digital afterlife: ex-Yugoslav pop-cultural icons and social media"; presentation at DIGITAL EXISTENCE: Memory, Meaning, Vulnerability, Sigtunastiftelsen/Sigtuna Foundation, Stora salen, Sigtuna (S), 28 October 2015.
"Enhanced immediacy of remembering and the emergence of post-socialist co-historicity"; invited lecture at COST Digital Memories Workshop, thematic cluster "Transcultural Memories in Post-Socialist Europe", Central European University, Budapest, 30 September 2014.
"Štulić in xPartizani0zauvijekX: primer izginulega digitalnega spomenika" presentation at Popularna glasba nekdanje Jugoslavije v primežu socialistične preteklosti in kapitalistične sedanjosti, Muzej novejše zgodovine, Cekinov grad, Ljubljana, 14 March 2014. 
"Computer and post-socialist memories: "children of socialism" make contact with 'western' computer technology"; presentation at EUPOP 2013, International Institute for Popular Culture (IIPC), University of Turku, 31 July-2 August 2013.
Research interests
digital memory, media memory, post-socialism, popular culture