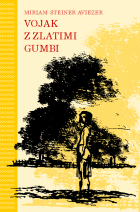 Title:
Author:
Other authors:
Year:
Keywords:
Language(s):
Description
Leta 1935 rojena Miriam Steiner Aviezer je do svojega šestega leta živela idilično življenje. V lekarni njenega očeta Bele Steinerja v Trebnjem se ljudje niso srečevali samo zaradi zdravil, temveč tudi zaradi radijskih in časopisnih novic, ki jih Bela Steiner še sveže posredoval svojim strankam. Aprila 1941 se je njihovo življenje čez noč spremenilo. V skrbeh za mamo, ki je živela v Karlovcu, je mama Zora s hčerko Miriam odpotovala na Hrvaško, kjer so ju zajeli ustaši in ju poslali v taborišče Nova Gradiška. Od tam ju je oče z velikimi težavami spravil nazaj v Slovenijo, od koder so jih kmalu zatem Italijani izselili v taborišče Ferramonti. Po kapitulaciji Italije se je družina umaknila v partizane in tam dočakala osvoboditev. Po končani srednji šoli se je Miriam vpisala na Filozofsko fakulteto Univerze v Ljubljani, približno v istem času pa je začela nastajati tudi pripoved male Bibe. Roman Vojak z zlatimi gumbi je prvič izšel leta 1964 v zbirki Pota mladih, v naslednjih tridesetih letih pa je bil preveden v srbohrvaščino, angleščino in hebrejščino. Vmes se je Miriam preselila v Izrael, kjer si je s pisateljem Šmuelom Aviezerjem v Tel Avivu ustvarila družino.
Miriam Steiner Aviezer (1935) lived an idyllic childhood in Trebnje, Slovenia, where her father, Bela Steiner, had a pharmacy. The pharmacy was a place where people not only got their medicines, but also to read newspapers and listened to the radio. In April 1941 their life changed abruptly. Miriam's mother, Zora, took her daughter to Croatia to visit her mother, where they were caught by the Ustaša and taken to the Nova Gradiška concentration camp. Father Bela went to extreme lengths to get them out, only to be captured soon after by the Italians and deported to the Ferramonti concentration camp. After Italy's capitulation, the family joined the Partisans. After liberation, Miriam enrolled in Faculty of Arts in Ljubljana and started writing the memoire of the little Biba, as she was called as a child.
The novel was first published in 1964, it is translated into Serbo-Croatian, English and Hebrew. Today, Miriam Steiner lives with her husband, writer Shmuel Aviezer and their children in Tel Aviv.
More ...
Vojak z zlatimi gumbi; Recenzije, Demokracija 24/XX, 11. 4. 2015
Publishing House
Založba ZRC
ISBN
978-961-254-756-1
Specifications
hardback • 12 × 18 cm • 112 pages
Price
12,00 EUR (Regular)
9,00 EUR (Club)