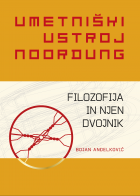 Title:
Author:
Year:
Keywords:
Language(s):
Description
Not the sheer simple repetition without difference, but rather the complex repetition, which produces small internal difference – this is the basic mechanism of the true theatre, which can be detected in virtually all performances signed by Slovenian retro(avant)-garde theater director and postrgavity artist Dragan Živadinov. Živadinov's theatres of repetition – The Scipion Nasice (1983–1987), The Red Pilot (1987–1990) and The Noordung (1990–1995–2045) – are positioning itself strictly against the theatre of representation – trough the endless play of simulacrum, of difference and repetition. The dispositive of difference and repetition is also the essence of Živadinov's life project Noordung:: 1995–2045, which is conceptualized in the manner of the complex 50-year theater repetition process, which every 10 years produces its own difference, which is a generic part of the repetition itself. In this way, it stages Nietzsche's mysterious idea of the eternal recurrence, which, however, is nothing but another name for difference and repetition. The Noordung thus represents nothing and no one but itself and thus repeats the drama of the cosmos – which is also its deepest meaning.
Table of content
Uvod: 1 STROJI USTROJA NOORDUNG
           
Prvi del: POLITIČNI STROJI
  1. H genealogiji retro-avant-garde
2 Trije temeljni retro pojmi Neue Slowenische Kunst (NSK)
3 H genealogiji pojmov: monumentalna retroavantgarda (Laibach), retrogardizem (Scipion),
retroprincip (Irwin)
4 Dve retrogardistični prizorišči: zgodovina vs. genealogija
5 Retrogardizem kot genealoška metoda v umetnosti
  2. Gledališče in Država
6 »Prekrstitev« Gledališča in Države
7 Država je abstrakcija: Urstaat (Rojstvo Države)
8 Samomor Gledališča in Države
9 Posmrtno življenje Gledališča-Države
  3. Nomadologija in anarhokozmizem
10 Vojni stroji
11 Od utopije do heterotopije in nazaj: KSEVT
Drugi del: UMETNIŠKI STROJI
 4. Telesa, telesa brez organov
12 Kaj lahko naredi telo?
13 Kako si lahko naredimo svoje telo brez organov (TBO)?
14 Tretje telo glasbe
15 Pesnikovo četrto telo
16 Nemogoče telo gledališča
5. Gledališki stroji in u-stroji
            17 Gledališki stroji in iluzionistično načelo
            18 Nietzsche contra Wagner, Nietzsche contra Badiou (prvo načelo sinteze)
19 Appia contra Wagner (drugo načelo sinteze)
            20 Craig in nadmarioneta (načelo neorganskega)
            21 Mejerhold in biomehanika (konstruktivistično načelo)
            22 Artaudova sinteza (načeli krutosti in ponavljanja)
 6. Stroj vseh strojev: Supremat
Malevič in suprematizem (načelo nepredmetnosti) – Mit o treh kvadratih. – Od »kvadratov« do arhitektonov in planitov. – »Zmaga nad soncem«.
Malevič, Nietzsche, Živadinov: »Zgodovino sveta prelomiti na dvoje«. – Problem sile in občutja. – Absolutni Nič kot dvojna afirmacija (točka transmutacije v gravitaciji nič).
Stroj-umetnost: Supremat. – Levitacijski konstruktivizem belega kvadrata (»Tržaški konstruktivistični ambient«). 
7. Genealogija gledalčevega pogleda: obrnjena perspektiva
26 Rojstvo perspektive iz smrti tragedije
27 »Skrivnost« Črnega kvadrata
28 »Skrivnost« Vstajenja sester Scipion Nasice
29 Perspektivični u-stroj Živadinova
Tretji del: TEHNOZNANSTVENI STROJI
   8. Tehnodispozitiv (Biomehanika)
30 »O smrti človeka in o nadčloveku«
31 H genealogiji tehnike/subjekta
32 Tehnosubjekt (Biomehanika Noordung: Biomehatronika Zupančič)
   9. Kozmizem in stroji za prelisičenje težnosti
33 Flusserjeva »opica«
34 Vstajenje in regulacija (Fjodorov)
35 Obvladovanje časa
Obrnjena perspektiva časa: Aiôn contra Kronos (Florenski in Deleuze). – Relativnost in trajanje (Bergson contra Einstein). – Kozmistična teorija obvladovanja časa (Muravjov). – Kibernetska teorija (Wiener).
36 Enotni zakon sil in opazovalec (Bošković)
37 Obvladovanje prostora: kozmična filozofija (Ciolkovski)
   10. Problem vožnje po vesolju: Noordung: Odiseja v vesolju 2045
38 Problem vožnje po vesolju: supre: arhitektura (Noordung)
39 Od kozmizma do transhumanizma: »Clarkov kvantni računalnik«
40 Atraktor (kaotični red in kvantno-nevralni hologram; »zunaj« in »znotraj«)
41 »Skrivnost« črnega monolita
Četrti del: SPOJNI MEHANIZEM (Filozofski dispozitivi)
42 Filozofija in njen dvojnik (Theatrum Philosophicum)
43 Subjekt in maska (Opraviti z reprezentacijo)
44 Naključje in nujnost (Met kock)
45 Dioniz in Ariadna (Dvojina)
46 Smrt in dogodek (»Bog je mrtev«)
47 Aktualno in virtualno (Metoda dramatizacije)
48 Proces in realnost (Guba)
49 Razlika in ponavljanje (Večno vračanje)
Sklep: 50 POSTGRAVITACIJSKA UMETNOST
Imensko kazalo
Pojmovno kazalo
Slikovno gradivo
Slikovno kazalo
Opus Dragana Živadinova
Bibliografija
More ...
MONOGRAFIJA O UMETNIKU DRAGANU ŽIVADINOVU; Novi glas 11.5.2017
PREDSTAVITEV MONOGRAFIJE O DRAGANU ŽIVADINOVU; Primorski dnevnik 9.5.2017
Jela Krečič: UMETNIŠKI STROJ NOORDUNG IN NJEGOVA FILOZOFIJA; Delo 14.2.2017
Jedert Jež Furlan: UMETNIŠKI USTROJ NOORDUNG; Bukla 28.11.2016
Marijan Zlobec: DRAGAN ŽIVADINOV PRVI SLOVENEC NA MARSU; Marijanzlobec.wordpress.com 26.10.2016
Publishing House
Založba ZRC
ISBN
978-961-254-934-3
Specifications
hardback • 16,7 × 23 cm • 454 pages
Price
29,00 EUR (Regular)
25,00 EUR (Club)