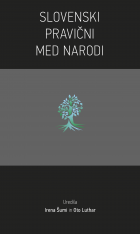 Title:
Edited by:
Other authors:
Year:
Keywords:
Language(s):
Description
To stand up against Nazi ideas of biologized "ethnicity" and antisemitism required a heroic disposition in individuals who did not allow themselves to have their basic humanity destroyed by such ideologies, even as the latter were backed by formidable political and religious power and sweepingly popular beliefs. The men and women presented in the first part of the book have already been recognised as Righteous Among Nations for their brave humanitarian acts during WWII, a title bestowed by the Yad Vashem World Center for Holocaust Research, Education, Documentation and Commemoration. Part Two brings the stories about people who were also saving Jews that were not recognised as Righteous yet, but some among them are candidates.
Table of content
Vsebina
PREDGOVOR
Miriam Steiner Aviezer
UVOD
Irena Šumi, Oto Luthar
Prvi del: SLOVENSKI PRAVIČNI MED NARODI
UROŠ ŽUN
ŠESTNAJST REŠENIH SVETOV
Miriam Steiner Aviezer
ANDREJ TUMPEJ
RAHELA, KI JE POSTALA BREDA
Miriam Steiner Aviezer
ZORA PIČULIN
VARUŠKA IZ LJUBLJANE
Miriam Steiner Aviezer
IVAN BRESKVAR
REŠEVANJE NA KOLESU
Miriam Steiner Aviezer
LJUBICA IN IVAN ŽUPANČIČ TER OLGA RAJŠEK NEUMANN
MALI DAN
Miriam Steiner Aviezer
VERA IN LUDVIK VALENTINČIČ
ZGODBA O SUZANI
Miriam Steiner Aviezer
RUDI ROTER
KAKO SO VAŠČANI POTOMJA REŠEVALI DRUŽINO KOEN
Miriam Steiner Aviezer
MARTINA LEVEC MARKOVIĆ
REŠITELJICA JUDOVSKIH ILEGALCEV
Miriam Steiner Aviezer
FRANCE PUNČUH
REŠEVALEC JUDOV V VARŠAVI
Boris Hajdinjak
Drugi del: DRUGE ZGODBE O POGUMNIH
ANDREJ VENDRAMIN
NEZNANI PRAVIČNI IZ SOLKANA
Renato Podbersič
CIRIL KOTNIK
DIPLOMAT IN ČLOVEKOLJUB
Ivo Jevnikar
ELIZABETA SAVICA ROŽANC HORVATH
MAŽIJEVA DRUGA MAMA
Irena Šumi
LUDVIK CIGÜT, DRUŽINI ŽILAVEC IN FARTELJ
REŠEVANJE EMERIKA HIRSCHLA
Boris Hajdinjak
JULIJ KONTLER
NEIZPOVEDANA DRUŽINSKA ZGODBA
Jasna Kontler - Salamon
REŠEVANJE ČEZ REKO
BELOKRANJSKI REŠEVALCI JUDOV IZ HRVAŠKE
Oto Luthar
KRATKA ZGODOVINA HOLOKAVSTA V SLOVENIJI
Marjan Toš, Irena Šumi
VIRI IN PRIPOROČENO BRANJE
MERILA JAD VAŠEMA ZA IMENOVANJE PRAVIČNE ALI PRAVIČNEGA MED NARODI
Miriam Steiner Aviezer
More ...
Marjan Horvat: MIRIAM STEINER AVIEZER; Mladina 11.8.2017
Agata Tomažič: »STREZNITEV IN UPANJE OBENEM«; Delo 07.03.2016
Iztok Ilich: SLOVENSKI PRAVIČNI MED NARODI; Bukla let. 12/št. 122, junij 2016
Publishing House
Založba ZRC
ISBN
978-961-254-862-9
Specifications
hardback • 12 × 20 cm • 168 pages