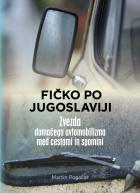 Title:
Author:
Year:
Compilation:
Keywords:
Language(s):
Description
The monograph addresses the question of Yugoslav automobile heritage and memory. The vehicle of choice in this endeavour is the Crvena Zastava make Zastava 750, better known as Fičko. The author traces the post-Yugoslav stories of the car as an object that left a deep mark in automobile and memorial landscapes of the latter 20th and early 21st centuries. As an object of memory and tinkering, Fičko is used as a metaphorical vehicle to address the issues related to nostalgia and memory, but also to engage with complex questions concerning automobile heritage and nationalisation of memory and industrial. Through the analysis of various practices of re-presencing the past he author thematises the relationship between affect and automobility in (digital) popular culture and not least the relationship to the Yugoslav socialist past in general.
Table of content
ZAHVALA
PRIPRAVA NA VOŽNJO ...
UVOD
Prva ...
JUGOSLOVANSKA AVTOMOBILSKA KRAJINA IN INDUSTRIJA
Obrisi jugoslovanske avtomobilske industrije
Zavodi Crvena zastava
In drugi proizvajalci ...
Jugoslovanska avtomobilska krajina
Zdravko Duša: Uvod v avtomobilnost
Sklopka ...
NEKAJ MALEGA ZA TEHNO(FIČKO)STALGIKE
Tehnična izkaznica
Skice iz Fičkovega abecednika
Tanja Radež: Pleh fička
Druga ...
POSREDOVANA PRETEKLOST: OSEBNE PRIPOVEDI IN MEDIJSKA OKOLJA
Fičko iz pripovedi
S platen in malih zaslonov
Avtomobilska ljubezen med algoritmom in cesto
Miniature, umetnost in oblikovanje podob nekdanje ikone
Hannah Marshall: Jugo ne traje dugo
Tretja ...
POŠRAUFANA SEDANJOST: MED CESTO, GARAŽO IN MUZEJEM
Avto, muzej in tehniška dediščina
Kragujevac: iskanje izgubljenega muzeja, ki ga nikoli ni zares bilo
Muzeji na kolesih
Zgodba o malem oranžnem avtu
Rikverc ...
IN POGLED ČEZ RAMO
Literatura
More ...
Pia Nikolič: BILI VIDELI PA ŽIVELI; Radiostudent.si 12.4.2017
Martin Pogačar: ZA VEDNO MLAD: FIČKO; Mladina 23.12.2016
Bojan Anđelković: JUGOSFERA: MADE IN YU 2015; Radiostudent.si 3.11.2016
FIČKO PO JUGOSLAVIJI; Demokracija 8.9.2016
Lijana Klemenčič: GLEJ FIČKO!; Štajerski tednik, Tednikova knjigarnica, 12.8.2016
Publishing House
Založba ZRC
ISBN
978-961-254-916-9
Specifications
hardback • 16,5 × 23 cm • 240 pages • 2 posters
Price
22,00 EUR (Regular)
17,00 EUR (Club)