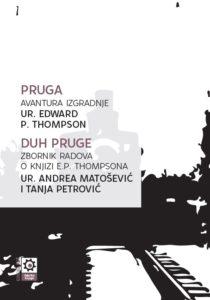 Duh pruge. Zbornik radova o knjizi E.P. Thompsona / Zbornik radova uz prijevod knjige Pruga. Avantura izgradnje .

Author: Andrea Matošević, Tanja Petrović
Year: 2020

The monograph consists of two parts: the first brings a translation of a collection of texts, "The Railway: An Adventure in Construction", in which the leader of the British Brigade, the British historian Edward P. Thompson and its members described their experiences of the 1947 "Šamac–Sarajevo" volunteer working brigades, and "The Spirit of the Railway", a collection of contributions by researchers who, from today's perspective, reflect on the relationship between history and experience – one of Edward P. Thompson's key scholarly preoccupations. The contributors do not simply understand Thompson's Railway as a historical document and do not analyse it as a text from another time, but rather engage in a dialogue with to tackle a number of questions that are crucial for understanding the socio-political moment of today.
---
Author

Publishing House:

Fabrika knjiga (Beograd)

Publisher

ISBN

978-86-7718-198-7

Year

2020

Specifications

paperback 13 × 21 cm 296 pages

Permalink