Description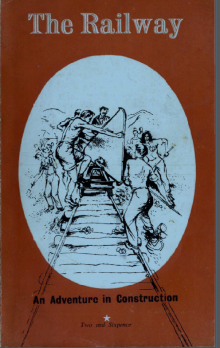 V organizaciji Inštituta za kulturne in spominske študije  ZRC SAZU in Centra za kulturološka i povijesna istraživanja Sveučilišta Jurja Dobrile u Puli, se bo na ZRC SAZU v Ljubljani 16. in 17. maja 2019 izvedla delavnica The Railway: An Adventure in Interpretative Reconstruction. Delavnica je posvečena zborniku Edwarda Palmera Thompsona "The Railway. An Adventure in Construction", ki je bil objavljen leta 1948. po enomesečnem sodelovanju britanske delovne brigade na mladinski delovni akciji Šamac-Sarajevo.
ČETRTEK, 16. 5. 2019
12. 00 Zbor na ZRC SAZU (Novi trg 2); kosilo
13.00-15.00  Prvi sklop
Danijela Lugarić: Gradnja jugoslovanske železniške proge, razgradnja "zgodovinskega dejstva" in ustvarjanja kulturnih študij
Boris Koroman: Vzporedne proge: The Railway in Na pruzi
15.00-15.30 Odmor za kavo
15.30-17.30  Drugi sklop
Tanja Petrović: Prvi in drugi tir proge Šamac-Sarajevo: O časovnosti, generaciji in verjetju v socializem
Andrea Matošević: The will to Construct. Ali o pomenu neimenovanega: "Brigada kripljev" in "skrb" na Mladinski progi
18.00. Dogovor o zborniku + večerja
PETEK, 17. 5. 2019
10.30-12.30 Tretji sklop
Maša Kolanović: ''NEW YUGOSLAVIA'': Moralna ekonomija neke pojmovne metafore
Iva Kosmos: Iz feredž v hlače: nova ženska in vizualno ustvarjanje nove jugoslovanske mladine
13.00-14.00 kosilo
14.00-16.00 Četrti sklop
Martin Pogačar: Infrastrukture imaginacije: proga, napredek, bodočnost
Ivan Rajković: Possessed by the spirit: Izgradnja skupnosti v britansko-jugoslovanskem polju srečanja
16.00-16.30 Odmor za kavo
16.30-17.30 Sklepne misli in razmisleki
Večerja
There are currently no new events.